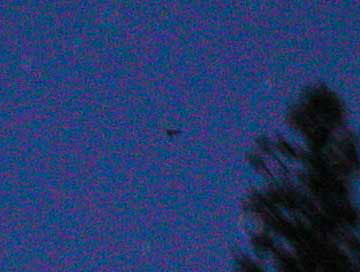 A bat just over the trees in our yard.
The flight of a bat is like no other flying creature I know (a humming bird might come close). The bat's flight is very irregular. You can't tell which way it will go next. Up, down, over, swoop, climb, dive, everywhere all at once - very quick changes in direction. They sometimes appear to turn on themselves (reverse direction) without stopping.
Here comes another now, along the tree line, past the madrones and pines, over the north fence. It flies right by my head, making an aweful racket in my headphones. This one flies past our barn and over toward our garden. A few minutes later it returns and flies the same pattern again. Now there are three, four. The night is warm and there are lots of bugs in the air. There is a feeding frenzy. After about fifteen minutes they all disappear, passing by ocasionally as the night darkens. I have not identified the species of bats I have seen but I believe they might be Big Brown Bats (Eptesicus fucus) and Little Brown Bats from what I have read about the flight behavior.